The growth and resilience of mass food markets in developing countries has proved beyond doubt that people naturally want to produce their own food and select their own ingredients or menus. Whoever came up with the idea of tinned food was wrong to assume people need the same amount of salt or soup. Even at household level some people do not want too much fat, salt or sugar due to personal and health reasons. Some consumers prefer semi-raw food like carrots consumed fresh in the market. Others want over-dried fish and so on. Where else can consumers have their endless choices and preferences fulfilled besides Africa's mass markets where funny shaped fruits have a much superior taste than all?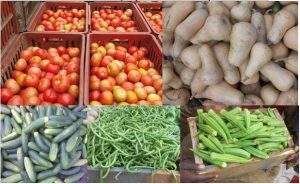 Commodities that set quality parameters in African fresh markets
Consumers that buy commodities from Africa's fresh markets are as sophisticated as shoppers in the formal market. Farmers and traders hoping to compete and win in the mass market should pay attention to the following commodities whose quality specifications influence customer satisfaction with all commodities.
Tomatoes – The first customer pulley is the tomato variety. The right one gives the farmer medium-sized fruits preferred by the market ahead of all other sizes. Major customers like vendors look at the amount tomatoes that can be heaped into a small pile or fit in a crate/box. Medium-sized tomatoes can be easily arranged in ways that hook customers. Formal markets also tend to be drawn to medium-sized tomatoes that are easily to measure into kilograms. Where only three large fruits form a kilogram, seven to eight medium-sized fruits make a kg, luring customers to part with their cash. In Zimbabwe and other East and Southern African countries, a variety called Tengeru from Tanzania has scored higher in meeting these parameters. Successful farmers say applying calcium fertilizer correctly and timely enhances the tomato fruit's firmness, contributing to good skin appearance and longer shelf life.
Potatoes – Skin appearance is number one magnet factor for customers, followed by fruit shape where preference is roundish and not shapeless. The third parameter is size, followed by absence of any visible skin diseases or deformities. According to leading farmers, plant population and feeding influences fruit size. Wider plant spaces produces extra-large and large tubers or fruits. Variety selection is also critical and that's where a variety called Valor stands out due to its roundish shape. Another great variety is called Panamera which is longish-shaped and a bit bigger than the variety called Mondial. Panamera is able to give the farmer more large and medium-sized tubers than small sizes. In terms of ranking by yield in Zimbabwe, Panamera is the leader, followed by Valor and then Mondial.  These are all imported varieties.  However, there are also other small boys like BP1 and Amatheist.
Cabbage – Head size is the key attraction for customers followed by appearance (head finish and leafy coverage around the head). Color is the other factor (darker green towards glittery appeal). This is where varieties like Star 3311, Star 3316, Kilimo and Takura compete fiercely. According to renowned cabbage farmers, wide spacing, adequate feeding and watering accounts for these favorable aspects.
Onion – The customer looks at the finish of the onion head which should be crispy brown skin and roundish. Medium-sized heads are most preferred of which eight to ten can easily form a kilogram. Medium sizes also dry very well, contributing to a longer shelf life. Good varieties for these features include Alodia which is more affordable to most farmers than other hybrid varieties.
Leafy vegetables – After freshness, the length of the leaves is a key attraction, followed by color (should be deep green).  This is where a Viscose variety known as Evergreen takes the trophy. The shape of the leafy is also another consideration with the same parameters applying to Rape vegetable where the leading variety is Rampant followed by English Giant, then Hobson.
Squash butternut – Customers first figure out maturity by looking at the stem where the fruit is de-linked from its plant (mother). Green lines on that stem must disappear, with the butternut turning to yellowish-brownish color, signifying full maturity and speaking to better taste. Farmers who try to surprise the market by bring premature butternut often get low prices except if there are serious shortages.  As in many other commodities, size also matters – most preferred are small to medium not extra-large that seem over-fed to a point of being difficult to pack and price. Absence of deformities is also key.
To get these qualities right, farmers say applying manure and fertilizer is critical. Although it prefers both commercial fertilizer and manure, butternut is one of few horticulture crops that do well with manure. That is why much production is happening among smallholder farmers who practice mixed farming where livestock are a key source of manure. Butternut needs the right quantities of water (adequate water) and when starved of water it can easily report in the market through its appearance. Adequate spraying for fruit flies minimizes losses while in the land.  Waltham variety has remained the leader.
Cucumber – Skin appearance is fundamental (should be greenish feel and look). After appearance, size and shape (straight with no deformities) follows, then freshness. Cucumbers with a bitter taste will have been given Ammonium Nitrate fertilizer but denied water before absorbing the fertilizer. Besides Monalisa and Stonewall, other famous varieties are Ashley and Pointset.
Okra – Fruit size is a key factor (small to medium is most preferred). Second is freshness – it must not shrivel (Kusvava). Color is also key – should be a very attractive shade of green. Customers usually determine freshness and quality in the market by physically breaking the fruit. When fresh, it breaks into two halves.  Okra also prefers humus (manure) which is why it comes from communal areas. It is a fragile and highly perishable commodity which has to be carefully harvested, packed and transported.  Be gentle when carrying or transporting. The good thing is, like most commodities, it can maintain taste and freshness at room temperature. To minimize chances of producing more large sizes, the farmer must narrow in-row spacing while too wide spaces lead to extra big sizes. Spineless variety is the leader.
Carrots – length is number one influence, followed by appearance (smooth with no side roots peeping). A third factor is freshness which can be determined by tasting through eating raw in the market. Carrots has to be denied water for sugars to build up with enough sunshine.  Consumers say too much water depletes sugars, with the amount of sugars being the main reason why the same crop and variety can taste differently. Carrots also requires a lot of water, feeding and does well in sandy soils.  The most popular variety is Koroda, followed by Nantzes, then Hekla which is a hybrid and very expensive.
Green beans – The customer looks at straightness and length, then color (must be dark green), freshness (seen through breaking the fruit) and then absence of spots.  Key varieties are Volta and Makatini.
Peas – When shelled, the customer looks at pod uniformity. Then brownish color of pods showing firmness of pods. Also critical is absence of observable diseases, then size of inside peas and firmness.
Charles@knowledgetransafrica.com  / charles@emkambo.co.zw / info@knowledgetransafrica.com
Website: www.emkambo.co.zw / www.knowledgetransafrica.com
Mobile: 0772 137 717/ 0774 430 309/ 0712 737 430