Instead of shelling out all the land to the current generation, African countries should leave much land uncommitted so that future generations will decide new uses at the time. In fact land should be considered a fluid resource like knowledge. Why should a fundamental natural resource like land be tied to an individual for a whole century through 99 year leases just for the sake of getting a loan from the bank?  In the case of Zimbabwe, this question is more intriguing because banks that are using absence of bankable leases or collateral as an excuse for not funding agriculture do not even have the money.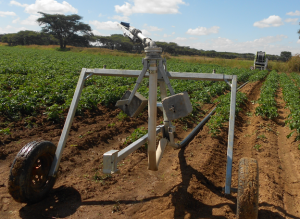 Would you rather own the land or the market?
In the current knowledge economy it is better to own the market than the land. Buying and owning land is not necessary because you will be locking capital that you would need to kick-start your farming business. That is why different forms of leasing are now more prevalent in many African countries including Zambia and Zimbabwe.  There is a strong case for African countries to move away from individual ownership of agricultural resources. Previously it was important to own land because there was a very strong relationship between production and markets.  Farmers knew they were producing for particular markets with whom they had strong bondages.
Rather than owning land, owning the market is more viable because the market informs what should be produced on the land. The production side should respond to dynamics in the market. It is no longer about having more land because markets determine what to produce, for whom, where and when? That is why land should be seen as a fluid resource so that a new farmer can choose to produce different crops like goats in Buhera, Peas in Murewa and fruits in Taveta (Kenya) in response to market demands.
Toward full utilization of land
Although it may have its own limitations, the lease-driven model will lead to full utilization of resources by farmers as they ensure production matches supply. Networks will also become more important than owning land. Many farmers have the best land but because they belong to the wrong networks they cannot fully unlock the value of their land. It is through networks that resources such as finance can be accessed much better and faster than banks. Questions that farmers are being forced to answer include: From the financial side and the knowledge side, who is providing you with relevant information or knowledge?  How are you getting information about the market?
Many former commercial farmers in Zimbabwe are coming back to lease the land they once owned because they still own the markets they used to serve pre-land reform. On the domestic scene, middlemen known as Makoronyera own the market and look for producers as well as production areas. They simply go to collect the produce wherever it is produced without worrying about owning the land. The market should determine the duration and structure of leases, not government policy. Even if you have a 99 year lease and the market decides to change into new commodities, you will not fully utilize that long-term lease. To the extent traders or Makoronyera now lease land by informing what should be grown, where and when, it is now the market leasing the land and deciding how to use it not the farmer or financial institution.
 Advisory services on land utilization
Beyond teaching farmers about farming as business, advisory services on resource utilization are badly needed across Africa. There has been a quiet transition from an individual lease model to the market leasing land. A model that combines leasing, knowledge and resource utilization is emerging as seen through several barter trade versions of leasing including share cropping and many verbal lease agreements based on relationships.  These are some of the forces silently shaping African agriculture.
Capacity assessment of farmers has to be done and should remain fluid like land. Farmers' capacity has to be assessed in relation to available natural resources, looking at questions like: If a farmer has 200ha of land what is his/her capacity and potential to utilize it?  How much capacity can the farmer use in the next 20 years? In a competitive environment, it is difficult to make projections of the agriculture sector without examining different capacity levels of diverse categories of farmers. Assuming there are 500 000 smallholder farmers, it is impossible to make useful projections using hectares of land occupied by the farmers to understand capacity as a resource.
If farmers in Mazowe district of Zimbabwe allocate 20% of their resources towards feeding the whole country, what equipment do they require?  What are individual farmers like Mr Collins Nherera's growth pathways for the next five years?  Other important elements include sources of income and remittances. Do farmers have other sources of money or they are ploughing back profits into the land?  What are other demand sources like school fees or extended family?  How farmers allocate resources to other needs like two children at university and the other two in secondary school?  These are some of the issues locking tobacco farmers in contract farming models as they will be chained by other family commitments.
 If not the market, who can reveal opportunities within African agriculture?
Many people are afraid to venture into agriculture because no one has convincingly explained hidden opportunities.  Rather than taking farming as a career path, young people and pensioners are taking it as a last resort. Intentional efforts should be directed at showing that farming can provide more green pastures than opportunities in foreign countries. Farming should be repackaged to be like any other business. This will reduce cases where some people are using agriculture as a stop gap measure to supplement incomes from other sources like formal employment in banking or government.  It should be the main priority like every business not a retirement home.
However benefits can only be seen once land is treated as a fluid resource like capacity and knowledge. When encouraged to invest in agriculture as a career path, young people can lengthen value chains that are currently ending at local markets to the export market where new tastes and preferences are emerging. Local stakeholders can then be capacitated to use local resources to engage in profitable farming as opposed to depending on external investors.  Although they may not immediately declare their interests, those bringing Foreign Direct Invest (FDI) definitely want to get more than 51% of the shares in the business.  They can also swiftly change goal posts at profit sharing stage and get more than they have put.
The power of role definition
It is important to define who is who in agricultural value chains and determine capacity gaps. Production is defined in terms of infrastructure, land, labor, equipment and irrigation systems among other assets. But in the market there is no system for assessing related assets like infrastructure or ways of characterizing different traders and related equipment. African policy makers are wrongly using land to define and classify farmers into communal, A1, A2 and commercial.  A lot of undocumented knowledge should be used to define farmers.  For instance, from a land size definition, Mr Collins Nherera is a lower A2 farmer but his knowledge is more than that of large scale commercial farmers.  Profiling farmers should be used as independent classification because capacity is broader than land resources. Land should be a fluid resource waiting for farmers with capacity to use it unlike giving it to everybody irrespective of capacity.
Charles@knowledgetransafrica.com  / charles@emkambo.co.zw / info@knowledgetransafrica.com
Website: www.emkambo.co.zw / www.knowledgetransafrica.com
Mobile: 0772 137 717/ 0774 430 309/ 0712 737 430